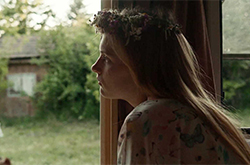 Original name: Virágvölgy
English name: Blossom Valley
Year: 2018
Run time: 83'
Language: Hungarian
Type (Colour/ Black & white): Colour
Country: Hungary
Director: László Csuja
Producer: András Muhi, Gábor Ferenczy
Cast: László Réti, Bianka Berényi, Károly Kozma, György Kardos, Róbert Kardos
Screenplay: László Csuja, Gergő Nagy V.
Cinematographer: Gergely Vass
Editor: Attila Csabai
Sound Designer: Gábor Császár
Costume Designer: Adél Virágh
Production Designer: Anna Nyitrai
Production Company: Focus Fox
World Sales: HNFF World Sales
World Sales Phone: +36 146 113 53
World Sales Email: klaudia.androsovits@filmalap.hu
Festivals
Karlovy Vary IFF 2018
Frankfurt-Am-Main Lucas - 2018
Cph:Pix - 2018
Cairo IFF - 2018
Santiago De Compostela Curtocircuito - 2018
Selected Filmography:
Blossom Valley 2018
Phosphorus (short) 2010

Director's Biography:

László Csuja (Born in Debrecen, 10/02/1984) graduated from the Academy of Film and Drama of Budapest in 2012. His short film Phosphorus competed at several international film festivals like Tampere, Cork and Edinburgh International Film Festival. His documentary titled Nine Months War about the Ukrainian-Russian military conflict, was screened at several festivals. He won Special Jury award for the same at Sarajevo IFF 2018.

Synopsis:

Who are the real crazies in an unhinged world? An ironic, brash road movie about young lovers on the run, interwoven with poetic and realistic images. Bianka is an extraordinary girl whose restless, manic mind won't respond to any figure of authority. When she comes upon an abandoned pram, she snatches the baby she sees inside and basks in her new role as a mother. Teenager Laci wants nothing more than to be acknowledged as a wholly competent individual. Bianka turns to him, claiming that he is the father; Laci naturally agrees to help out. Thus begins their zany trip through the Hungarian countryside.