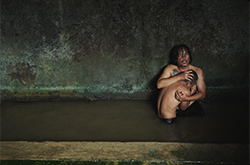 Original name: Kucumbu Tubuh Indahku
English name: Memories Of My Body
Year: 2018
Run time: 106'
Language: Indonesian - Javanesse
Type (Colour/ Black & white): Colour
Country: Indonesia
Director: Garin Nugroho
Producer: Ifa Isfansyah
Cast: Muhammad Khan, Raditya Evandra, Rianto, Sujiwo Tejo, Randy Pangalila, Whani Dharmawan
Screenplay: Garin Nugroho
Cinematographer: Teoh Gay Hian
Editor: Greg Arya
Sound Designer: Dicky Permana
Music Composer: Mondo Gascaro
Costume Designer: Retno Ratih Damayanti
Production Designer: Edy Wibowo
Production Company: Fourcolours Films
World Sales: Asian Shadows
World Sales Phone: +86 13602721891
World Sales Email: lya@chineseshadows.com
Festivals
Venice FF 2018
Busan IFF 2018
MAMI Mumbai 2018
Rotterdam IFF 2019
Selected Filmography:
Love In A Slice Of Bread 1990
Leaf On A Pillow 1998
Bird Man Tale 2002
Opera Jawa 2006
Memories Of My Body 2018
Director's Biography:
Garin Nugroho is a veteran, and highly acclaimed Indonesian filmmaker. His debut film Love Is A Slice Of Bread (1991) was selected as the Best Young Director at the Asia Pacific IFF. His film Leaf On A Pillow (1998) opened in Un Certain regard, Cannes and won the Special Jury Prize in Tokyo. Followed by Bird Man Tale (2002) that won the NETPAC award at the Belinale in 2002. His Opera Jawa (2006), produced as part of the celebration of the 250th birthday of Mozart, premiered in Venice in 2006 and won awards in Tokyo, Cinemanila and Singapore.
Synopsis
Juno is just a child when his father abandons him in their village of Center Java. Alone now, he joins a Lengger dance center where men shape their feminine appearance and movement. But the sensuality and sexuality that come from dance and bodies, mixed with the violent social and political Indonesian environment, force Juno to move from village to village. Even if on his journey Juno gets attention and love from his dance teachers, his weird aunty, his old uncle, a handsome boxer and a Warok, he still has to face by himself the battlefield that his body is becoming.