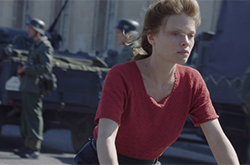 Original name: La Douleur
English name: Memoir of War
Year: 2017
Run time: 127'
Language: French
Type (Colour/ Black & white): Colour
Country: Belgium, France, Switzerland
Director: Emmanuel Finkiel
Producer: Yael Fogiel, Laetitia Gonzalez
Cast: Mélanie Thierry, Benoît Magimel, Benjamin Biolay, Grégoire Leprince-Ringuet
Screenplay: Emmanuel Finkiel, Marguerite Duras (Book)
Cinematographer: Alexis Kavyrchine
Editor: Sylvie Lager
Sound Designer: Antoine Mercier
Music Composer: Nicolas Becker
Costume Designer: Anaïs Romand, Sergio Ballo
Production Designer: Pascal Le Guellec
Production Company: Les Films du Poisson, Cinéfrance, KNM
World Sales:TF1 Studio
World Sales Phone: + 33 1 41 41 21 68
World Sales Email: sales@tf1.fr
Festivals :
San Sebastián IFF 2017
Vancouver IFF 2018
Haifa IFF 2017
Rio de Janeiro IFF 2018
Shanghai IFF 2018
Selected Filmography
Voyages 1999
Casting (Doc) 2001
Nulle Part Terre Promise 2008
Je Suis (Doc) 2012
Director's Biography:
Emmanuel Finkiel has worked as assistant director to Bernard Tavernier, Krzysztof Kieslowski and Jean-Luc Godard. In 1997, he won the César for Best Short Film for Madame Jacques Sur La Croisette. With his first feature, Voyages (1999), he landed two César Awards and the Youth Award in Cannes. This was followed by Nulle Part Terre Promise (2008), for which he won the Jean Vigo Award. He has also directed the documentaries Casting (2001) and Je Suis (2012) as well as the TV films Melanie (21996) and En Marge Des Jours (2007).
Synopsis
When she finds two old notebooks in a forgotten box, Marguerite Duras remembers her past and the unbearable pain of waiting. In the 1944 Nazi-occupied France, the young and brilliant author is an active Resistance member with her husband Robert Antelme. When he is deported by the Gestapo, she throws herself into a desperate struggle to get him back. She develops a chilling relationship with local Vichy collaborator Rabier, and takes terrible risks to save Robert, playing a cat-and-mouse game of unpredictable meetings all over Paris. Does he really want to help her? Or is he trying to dig up information about the anti-Nazi underground movement? Finally the war ends and camp victims return, an excruciating period for her, a long and silent agony after the chaos of the Liberation of Paris. But she continues to wait, bound to the torment of absence even beyond hope.